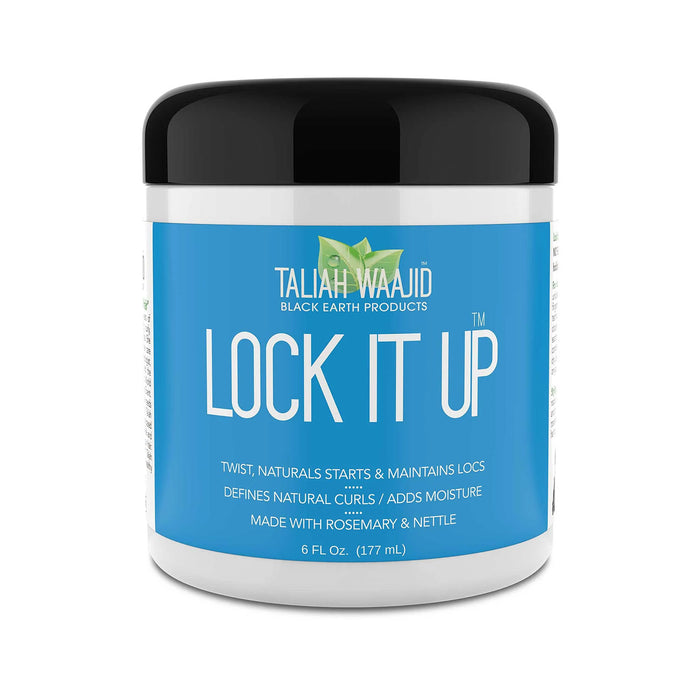 Taliah Waajid Lock It Up 6oz
This styling gel provides great hold with no flaking. Infused with Yarrow root, Rosemary, and Nettle, it stops frizz and holds styles longer. Can be used to define curls or twist locs.
Lock It Up™ does not harden when dry. It leaves the hair soft and manageable. Great for starting locs, two-strand twist styles, loc grooming and more.
Benefits:
No Flaking
Stops Frizz
Does not contain alcohol
How to use:
Styling gel: Use on wet, damp or dry natural hair to define your curl pattern and to control frizz. Use Lock It Up on transitioning and chemically processed hair to slick hair back or up to style.
For defining curl pattern of natural hair:  Apply  to the hair and use fingers to help shape and define curl pattern. Lock It Up will not flake or harden when dry. It leaves the hair soft and manageable without a sticky, gummy feel.
For locks: Apply to clean, unlocked hair near your scalp. Use fingertips, the palm, or comb rolling technique to twist new growth clockwise. Use a clip to hold the section in place. Continue until complete. Sit under dryer until hair is dry. Use the Strengthener on your scalp.