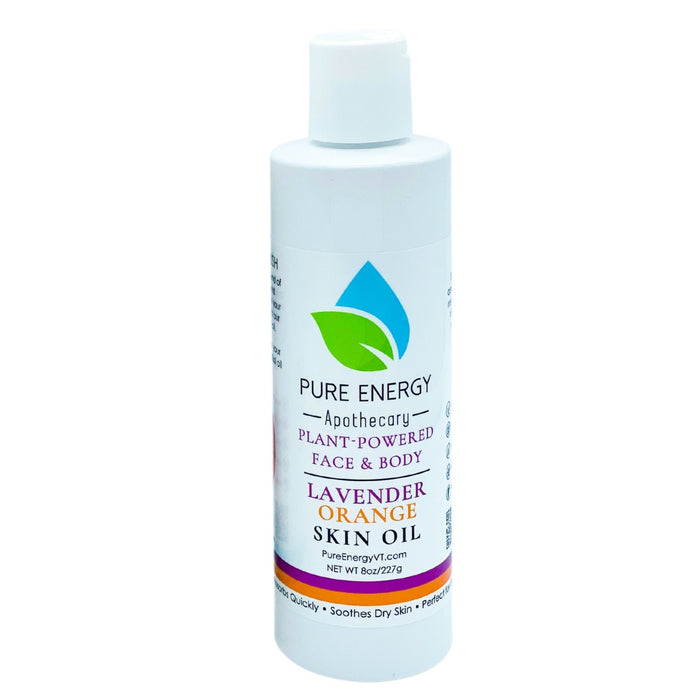 Pure Energy Apothecary Lavender Orange Skin Oil 8oz
Pure | Energy Apothecary Body Oil – Pure Aromatherapy 8 oz
Our Vermont Handmade Pure Aromatherapy Body Oil was created with love in mind for the whole family. Enjoy all of our energizing and inspiring products with the comfort of confidence in quality and carefully chosen ingredients.
Pure Regeneration Aromatherapy with Pure Aromatherapy is an intoxicating blend of refreshing orange and soothing lavender. Created with natural ingredients, our Vermont Handmade Body Oil will rejuvenate your spirit and heal your soul. Discover luxurious moisture for your skin enriched with our pure essential oil aromatherapy. As the oil kisses your skin, Pure Aromatherapy elevates your energy and settles your mind. In today's hectic world, time is a commodity. Every pampering moment should be an escape for your soul.
FAMILY RECIPE sunflower oil, coconut oil, apricot kernel, avocado oil, rosehip oil, rice bran oil, argan oil, meadow foam seed oil, orange and lavender essential oil, vitamin e .