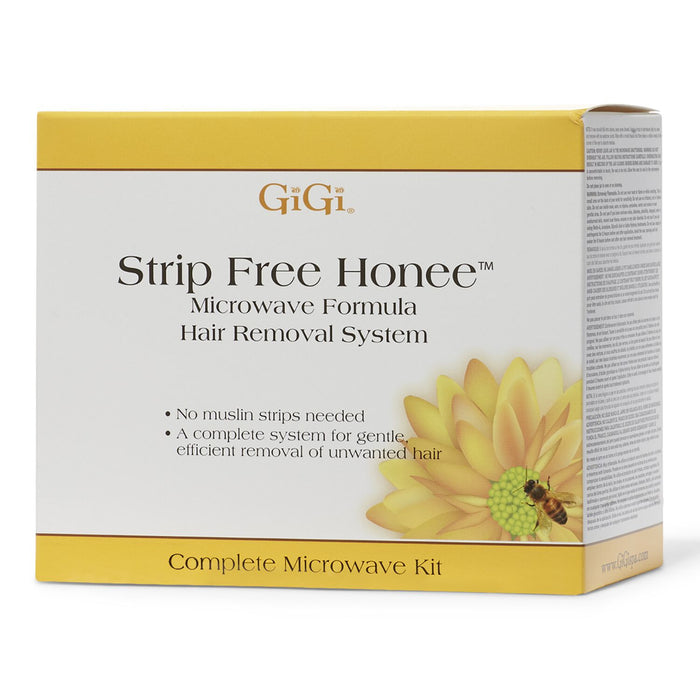 The Gigi Strip Free Honee Hair Removal System is everything you need in one kit for fast, effective hair removal. Gentle enough for delicate facial and bikini areas. Leaves skin sleek, smooth and free of unwanted hair for up to eight weeks.
How to use:
Remove the cap and plastic disc. Place jar on a microwave safe plate in the center of microwave. Heating time varies with each microwave. Heat for 30 seconds.



Carefully break the surface of the wax with a large applicator. Continue to heat in intervals of 15 seconds until you can stir the wax so it takes on a thick, honey or caramel-like consistency. Do not heat longer than a total of 1 minute, wax may become too hot to apply. Remove jar from microwave carefully. If jar is uncomfortable to touch, let cool in the microwave before removing.



Test the wax temperature before applying to bikini area. Cleanse area to be epilated with Pre-Hon Lotion. Pat dry with tissue. With applicator, apply a thick coat of wax in the direction of hair growth. Allow wax to cool on skin until it becomes soft and pliable, approximately 30 seconds. Immediately apply firm pressure to epilated area with the cushion of your fingers to calm skin.

Always do patch test on the back of your hand or on a small area of your leg for possible skin reaction. Wait 24 hours. If skin appears normal, proceed with complete hair removal treatment.


Apply Wax Off liberally on treated area to remove any wax residue and to moisturize skin. Use Benzokal Skin Concealer as the finishing touch to reduce redness, soothe and protect the skin. To maintain epilation results longer, smooth on Slow Grow everyday after showering to inhibit hair growth.